Fence Company Erie, Pennsylvania
We understand how important quality fencing is for both residential and commercial properties. A well-installed fence provides security, privacy, and a sense of protection that can't be achieved in any other way. That's why we strive to provide our customers with the best services available.
At Lakeside Fencing, we specialize in fence installation and repair services for residential and commercial properties in Erie, Pennsylvania.
We use the highest quality materials and expert craftsmanship to ensure our customers get a fence that will stand the test of time. We're also known for competitive pricing and our ability to work within customers' budgets while still delivering outstanding results.
If you're ready to get started on your fence building, repair, or resurfacing project, our local company can help. Just give us a call for a free quote and assistance with the following services in Erie County:
TOP FENCE BUILDING & REPAIR CONTRACTORS
At Lakeside Fencing, we pride ourselves on providing reliable, quality, and affordable installation and repair services. With a focus on durability, safety, and aesthetic appeal, we offer a wide range of options to meet each customer's needs.
Our skilled and experienced professionals in Erie are committed to delivering excellent customer service and ensuring that each project is completed to the highest standards. Plus, our competitive pricing and comprehensive warranty on all fencing products and installations give customers peace of mind and confidence in their investment.
So, when you need fence installation and repair services, choose Lakeside Fencing. We offer the following:
• Durable Fence Solutions
• Wide Selection of Fencing Options
• Skilled Professionals
• Competitive Pricing
• Comprehensive Warranties
There are many aesthetic benefits of a wood fence installation. Wood fencing is strong, durable, attractive, and naturally resistant to pests and decay. 
Wood is an affordable option for any residential or commercial property. 
When built properly, wood fencing can last for many years with little maintenance and repair required. 
If you're not sure whether a wood fence is right for your needs, contact our professional fence company to discuss the benefits of a wood fence installation in your area.
Cedarwood is beautiful and aromatic timber that resists rotting, decay, and insects. 
Cedar is the preferred material for traditional wooden fencing because it is rot and insect-resistant. 
If you are considering cedar for your fencing, look for cedar that has been treated to protect it from fungi and insect infestation. 
In addition, Cedar also has good insulating properties and is an excellent material for keeping your plants and flowers cool in the hot summer months.
The benefits of a wood fence are limited only by your imagination. 
Cedarwood looks great and smells wonderful. Whether you choose to use cedar to build a cedar fence or a vinyl fence, you'll enjoy all the great advantages that come from wood fencing without breaking your budget. 
A beautiful, attractive fence imparts a sense of style to your home and makes a strong statement about your personal sense of style.
As a result of many positive reviews throughout the industry, many homeowners in all walks of life have discovered the many benefits of a wood fence. 
This type is quickly becoming a favorite among people looking to add an attractive structure to their yard. Building a cedar fence is an inexpensive way to spruce up a front yard.
When deciding between cedar and vinyl, it's a good idea to call our professional contractors to get a free estimate.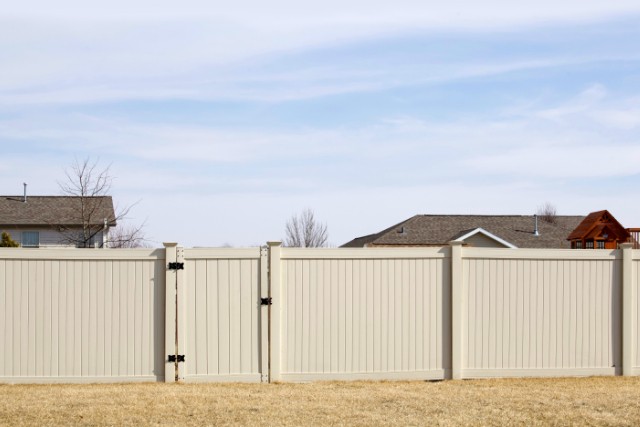 Our vinyl fence option is one of the most popular fencing options available to consumers today. 
It offers a quick, easy way to add fencing to your property and provides exceptional value for money.
There are a large variety of vinyl panels that vary in style, color, and height. 
The height is usually between six and twelve inches, with a choice of panels measuring between six and ten-foot intervals. 
Each panel is manufactured from a durable, hard-wearing variety of vinyl which means that your fence should be able to withstand years of heavy use without showing signs of damage. 
This means that less maintenance is required on your part, which is a significant benefit in the long term.
Less Maintenance:
With less maintenance, comes less mess. Cleaning the fence may be slightly more difficult than traditional types of fencing, but it is significantly easier. 
No painting or staining is required and the panels tend to last for many years before requiring regular maintenance to keep them looking fresh and new. 
In addition, the porous nature of vinyl means that there is no chance for mold to develop – another benefit.
The material is highly durable. Even when the sun is shining, the panels of vinyl are quite tough and durable. 
There is no need to paint or stain the surface, as some other types of materials will require. Because of the durability of vinyl, it can also withstand winds as well. 
It is extremely easy to clean and can last for years in both good and bad weather conditions.
In addition to all of these benefits, you will find that it is very easy to install. 
The panels are easily inserted into the ground, and there is no need for any type of specialized equipment or tools.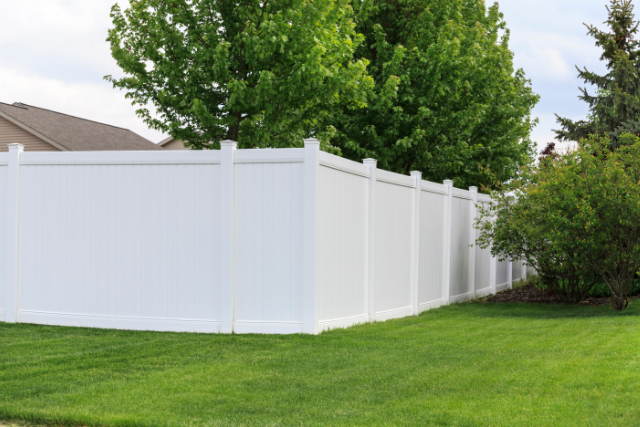 In most cases, the installation of a privacy fence is not an attempt to add visual beauty and value to your property or improve the exterior appeal of the home.
However, it is in fact, an extremely effective method of providing peace of mind, physical security, and protection from intrusion by unwanted strangers. 
Privacy fences can be designed to suit your own individual requirements and are available in a variety of styles. 
The purpose of having a barrier from neighbors or potential burglars is to provide you with a physical barrier against people who would like to gain access to your home or property without consent from you or your family. 
Deterrent For Trespassers:
The installation of a privacy fence is not only a deterrent to trespass but can in many instances provide you with a level of comfort and security.
This security in the past was only obtainable through the employment of security guards hired to watch your property.
There are numerous reasons why you may wish to install a fence around your property. 
You always want to provide peace of mind that your children are safe and secure in your own home. 
Family Safety:
Or, you may want to ensure the safety of your livestock. 
There are several different types of fences that are available to choose from that will offer you peace of mind and physical security.
Peace of mind and security are just two of the many benefits of a privacy fence installation. 
When you are looking for ways to enhance the security of your property, the benefits of a privacy fence installation may come as quite a surprise. 
The fact is that installing this type of physical barrier can help to increase the overall value of your property as well.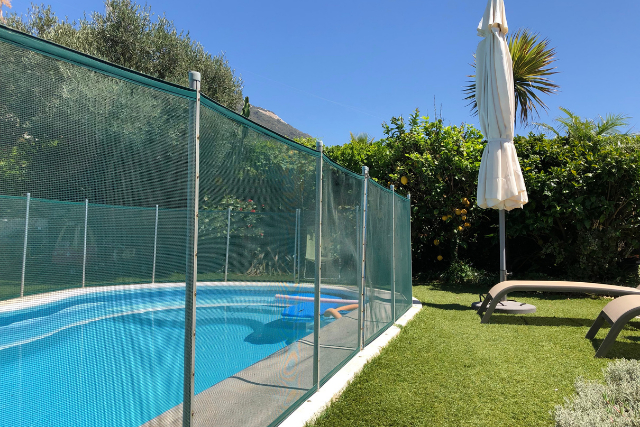 Installing a pool fence is a great way to provide security for your family while adding an attractive feature to your backyard or landscaping area. 
When you install an attractive pool fence, you will be able to enjoy the peace of mind that comes with knowing your children, and other family members are safe around the swimming pool. 
A durable and high-quality pool fence can also help you achieve the safety and peace of mind that you need in your yard.
Most fences are constructed with strong materials and are designed to withstand many years of being exposed to the sun. 
This means you and your family can enjoy the outdoors in complete safety and privacy. 
Various Benefits:
When you install a pool fence, you will be able to enjoy the beautiful flowers and plants in your yard.
A second benefit is that installing a pool fence can increase the value of your home. 
If you want to make sure that your property is secure, a pool fence is a perfect option. A great manufacturer warranty is another added benefit that comes with a quality pool fence. 
Most fences will come with a great warranty. When you consider these benefits when you are choosing pool fencing for your home, you will be glad you made the investment in protecting yourself, your loved ones, and your property.
If you are considering having a swimming pool fence installed, you need to consider that there are many different styles to choose from. 
If you live on high ground, you may want to consider the benefit of one that surrounds your swimming pool. 
A great manufacturer warranty will give you peace of mind with this type of purchase as well as you won't have to worry about replacing it for many years.
The benefits are valuable to many people. If you are interested in purchasing a fence, you should look at different models and try to find one that gives you peace of mind with a warranty. 
Pick up the phone and call our local Erie fencing contractors to determine the most reasonable price for a fence installation.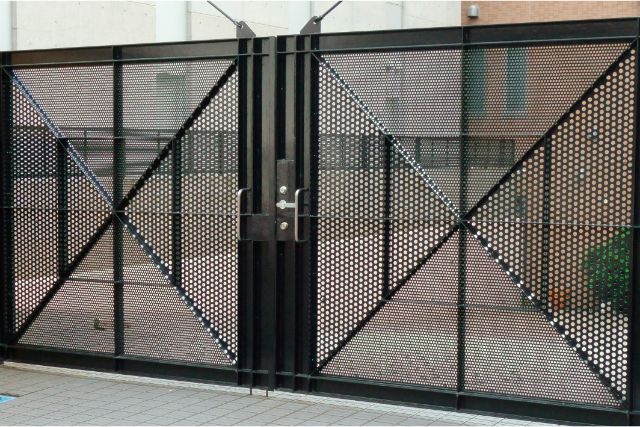 A custom gate is an effective means of deterring unwanted visitors and providing an attractive entrance for your home or business. 
Whether it is a sectional, chain link or wood-custom gate fences are available in a variety of styles. 
You can even have custom gate panels made to fit your individual needs and specifications. 
The benefits of a custom gate are that they are customizable in many ways. These days gates are made using heavy-duty materials and with a variety of styles and finishes. 
These durable materials provide a custom gate heavy-duty, low maintenance, and long-lasting appearance.
Whether you want the traditional style of aluminum gates or modern decorative metal gates the options are almost limitless. 
The type of metal that is used to make these fences can range from aluminum, steel, and iron to vinyl types. 
These gates can be found in both free-standing and mounted fences.
In addition to the type of material the fence is made from, there is a variety of styles available as well. 
There are chain links, mesh, vinyl, wood, and plastic types. Each of these fences can be found with attractive artistic designs and colors. 
Some of these fences are also made with decorative iron rings and gates.
The benefits are many and they provide a high degree of security as a privacy fence. 
When you use heavy-duty gates and fences you have additional security features as well. 
The fence system can offer an efficient barrier between public and private property. This type of fence offers a secure and low visibility barrier that will meet your needs as far as security and privacy are concerned. 
A custom gate is a great solution for commercial and industrial properties where extra security and protection are needed. 
They provide an effective way to deter thieves by creating a physical barrier between the people and the items they are attempting to access. 
Looking for a reliable fence contractor in Erie? Lakeside Fencing is here to help. We provide quality installation and restoration services for all kinds of fencing needs. Our team of experienced professionals have the expertise to handle any job, big or small.
Our products and services come with a comprehensive warranty, so you can rest assured knowing you're getting the best quality possible. We take pride in our work and strive to exceed your expectations with every job.
So if you're looking for reliable and quality fence services in Erie County, turn to Lakeside Fencing. Just get in touch for a free quote!
Besides Erie, our fence builders also cover Dock Junction, Chestnut Hill, Highland Park, Lawrence Park, Wesleyville, Westminster, Northwest Harborcreek, Brookside, Lakewood, Harborcreek, and all of Erie County, Pennsylvania.